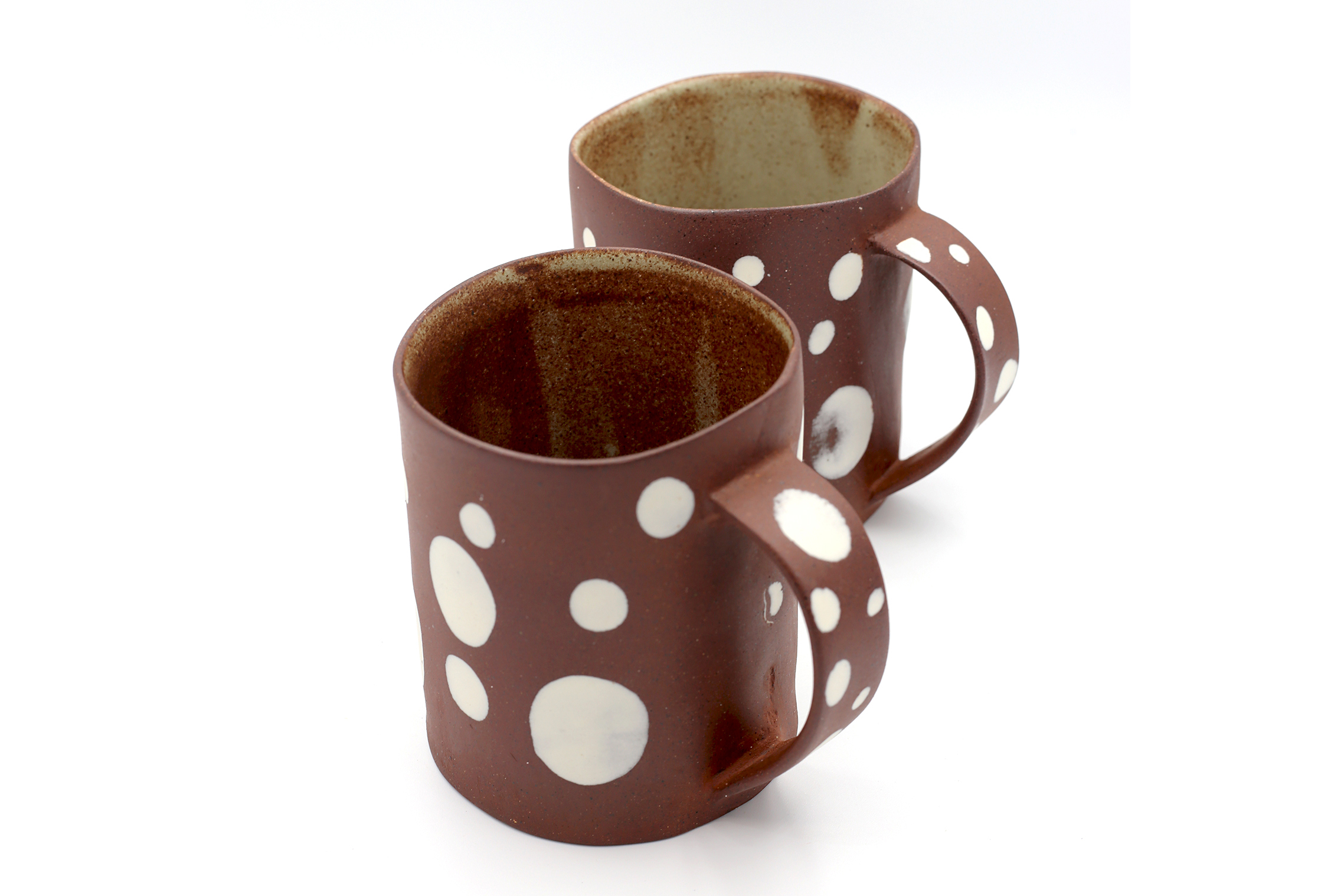 Ban Mian Cup Classic Pair (Polkadot)

"A polka-dot has the form of the sun, which is a symbol of energy of the whole world and our living life, and also the form of the moon, which is calm. Round, soft, colourful, senseless and unknowing. Polka-dots can't stay alone; like the communicative life of people, two or three polka-dots become movement..." — Yayoi Kusama

These mugs are sold as a pair. They are made in small batches, each sculpted with care and attention. Its form and curved handle fits your hand ergonomically. The rims are tapered to feel soft on your lips and to guide the flow of your drink. Its raw clay exterior is smooth to touch, like the surface eggshells. The size and proportion is perfect for all beverages, all-day use.

Ban Mian (板麵) — Flat Chinese handmade noodles. The name ban mian came from the Hakka method of cutting the noodle into straight strands using a wooden block as ruler. They are perfectly flat but the irregular grooves of handmade cutting is there, just like these cups.



More details ︎
Stoneware/Terracotta, hand-built, Variation in glazes.
8 cm (ø) × 9 cm (h), ~260g (wgt)

© 2020 Pinch Ceramics Studio, Singapore.


︎ Back to Shop
Questions about payment and shipping?
Check our FAQs

Please note that each item is handmade and will have slight variations. Items may look slightly different from the photograph featured!

Pinch's ceramic pieces are made with cone 6/7 stoneware, raku, terracotta or porcelain. Only food-safe glazes are used, ensuring the safe consumption of hot and cold substances in our products.

To retain the quality of your piece and ensure longevity, hand-washing with a non-abrasive cloth or sponge in warm soapy water is recommended. The products are dishwasher and microwave safe. However, we recommend that you avoid placing these pieces in extreme hot or cold environments (oven, freezer) or for prolongued use in the microwave, as this could cause thermal shock and result in cracking and/or breakage.

Pinch Ceramics Studio is an artist-run studio. All the proceeds from our online sales help to support the work we do!